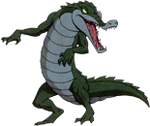 Gator Ghoul
(also Godzilla not confused was daikaiju) is the main character who team up with Samuel and his friends to defeat the enemies.
Speak Language
In the Power Rangers Show, he has the english speaks, but alligator talks. After end of first and second series, he is now fully speak engish and strong intelligent.
History
The Gator species was mutated. Samuel found lost baby Gator Ghoul and name Godzilla who save the towns from evil monsters.
Godzilla's Members
Jaguroar (former member become general)
Rodan (formerly Robotnik member then second member, later sixth member)
Sakira (deceased, but she come back in Godzilla: Mysterious of Crystal Cove Season 2)
Hippotamas (former member become high general)
Longg (second member)
Eve Brea (third member)
Yamagishi Yuu (former member become the queen)
X-021 (fourth member)
Major Enemies
Achimonde (first major enemy)
X-028 (minor enemy)
Waka-Tiki (movie enemy)
Fallen (second major enemy)
Karlen (minor enemy)
The Chinese Devil Dragon (movie enemy)
The Fury Mask (third major enemy)
The Eight Evil Hearts (fourth major enemy)
Bio-Hazard (minor enemy)
The Mindless Talking Train/Train True Form (movie enemy)
Hydranisk (minor enemy)
Crystal Cove of Leader Koragg (fifth major enemy)