Velma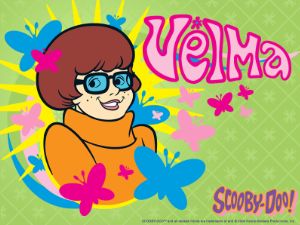 Character Info
| | |
| --- | --- |
| Gender | Female |
| Hair | Auburn |
| Eyes | Black |
| Occupation | Amateur sleuth; bookstore owner; NASA assistant research scientist |
| Affiliation | Mystery Inc. |
| Family | Mr. Dinkley (father), Mrs. Dinkley (mother), Madelyn Dinkley (younger sister) |
| Played By | Mindy Cohn |

Velma Dinkley is the bespectacled resident genius of Mystery Inc., often being the one to decipher the clues and solve the crimes.
Physical Appearance
Velma has chin-length auburn hair (her hair is shorter than Daphne Blake's) and black eyes. She usually has freckles, and initially was depicted as more heavyset compared to the thinner frame on Daphne. While somewhat obscured by her fashion choices, Velma can be seen to have a slightly wider waist and her facial shape is more circular/square compared to the ovular shape Daphne has as an adult.
She is always seen wearing thick-framed, square glasses (a running theme is that Velma often loses them, after which she can be seen crawling on the floor looking for them saying, "My glasses. I can't find my glasses."). She normally wears an orange sweater, with a red skirt, knee length orange socks and black shoes. Her clothes didn't change much from show to show being almost the same.
Personality
Velma can at times be competitive with other people who are very intelligent like she is.
Memorable catchphrases and quotes
"Jinkies!"
"What a ham!'"
"Would you do it for a Scooby snack?"
"Are you thinking what I'm thinking?"
"My glasses! I can't see without my glasses!"
Family and relatives
Mr. Dinkley and Mrs. Dinkley: Velma's biological father and mother.
Aunt Thelma: a marine biologist. (A Pup Named Scooby-Doo)
Cousin Thelma: Studies Egyptian Tombs.
Dave Walton: Velma's uncle, a ranger.
Uncle John: an archaeologist who enjoys investigating ancient structures and caves.
Cosmo Dinkley: another archaeologist.
Uncle Elmo: a doctor.
Mrs. Dinkley is an aunt (by marriage) who works for Pirahna Studios as their chief accountant.
Aunt Megan: Who lives with Uncle Evan.
Uncle Evan: Who lives in a small town.
Marcy: Velma's cousin, the daughter of Meg and Evan. She was born on Halloween. She created scarecrow robots to scare people and ruin Halloween because she wants everyone to celebrate her birthday.
Madelyn Dinkley: Velma's younger sister.
Gallery
Community content is available under
CC-BY-SA
unless otherwise noted.