Velma Dinkley
Scooby Doo! Mysterious Clues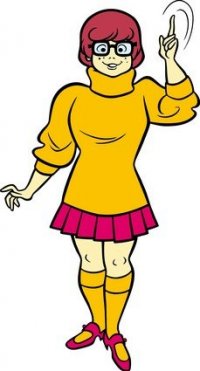 Character Info
Gender
female
Hair
Auburn
Eyes
Black
Occupation
Amateur sleuth
Affiliation
Mystery Inc.
Family
Mr. Dinkley
Mrs. Dinkley
Madelyn "Mads" Dinkley
Played By
{{{played by}}}
Velma Dinkley is a teenager that lives in Coolsville and is the smartest member of Mystery Incorporated.
Physical Appearance
Velma wears square-framed glasses and a trademark orange turtleneck sweater, along with a short red skirt. She also has long orange socks, and red shoes.
Personality
Velma is considered a genius, being in the honor's class at Coolsville High. She has won 20 blue ribbons at science fairs. She also studies for fun and always can hack computers. She can easily figure out clues.